If you are considering starting your own business, you came to the right place. More than 25 million Americans are on their way to becoming entrepreneurs, and there is no reason you shouldn't be one of them. And if cooking is your passion catering can become a very lucrative full-time job that makes you happier than any 9 to 5 office gig ever will.
Although owning your own business comes with lots of rewards, there is also a lot of work that precedes it. Even if the statistics aren't always in the favour of ambitious entrepreneurs, that doesn't mean that you endeavour can't be a smashing success. If you have the willpower and follow our advice, the fruits of your labour will come sooner than you expect them.
Grab a pen and paper, and write down the most important pieces of advice if you want to start your catering business. Always make sure that you are taking all the necessary steps in order to enable your business to bloom. And it all starts with a good plan.
Let Your Creativity Run Wild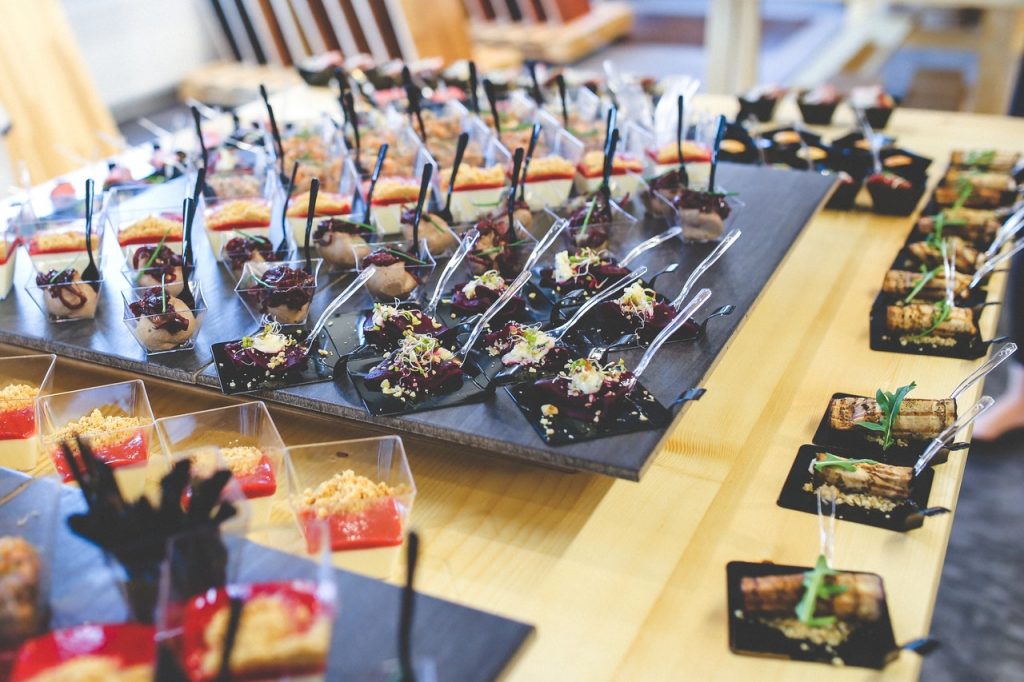 Before you start getting wrapped up in important issues, budgets and permits, let your creativity take over the wheel. Once you know about all the restraints, you won't be able to think so freely. And if your idea to become a caterer has started from your passion for cooking, you need to tap into that.
What kind of food will you be cooking? Do you want to have a specialty? What will be your motto? What are the core values of your company? Do you have a name in mind?
Do some brainstorming before the reality hits you, otherwise, you will never get the chance.
Focus on the Business Side
Once your creativity has had a fair share, it's time for the logical side to take over. The first task on the long list is definitely securing all the necessary permits. If you want your business to really bloom, you need to build a solid foundation. After licenses, a detailed business plan is your next step.
Do some math and market research and figure out what you need to stay afloat. Keep track of it monthly, or even weekly, so you know if there is trouble coming.
Third – Start Hiring Some Quality Staff!
Although you will probably try at first, like any new business owner usually does, the chances are you won't be able to do everything yourself. And hiring someone reliable, well-liked and good at their job folks might not be so easy. Not only do you need to hire them, but you also need to make sure they feel respected, interested and happy in their new roles. And the best way to achieve this is to start with good expectations, as soon as you start interviewing them. Before you put out an ad, ask for recommendations from your friends. Hires with references should definitely be your first choice, but don't ignore a starter if they shows promise.
Invest in Important Items
Running a business means thinking strategically and always having in mind that it's a marathon, not a sprint. You need to accept the fact that you will surely spend a lot of money in the beginning, and focus on spending it wisely. For example, one of the best investments you can make is kitchen appliances.
They will be the foundation of your business, and a broken blender can cause more trouble than you could possibly handle. Bear in mind the quality and solid return policy, and you will avoid many potential crises. Don't forget about the not so obvious things, like fire ducts, smoke alarms, and all the utensils you will ever need.
It's Time to Market
And off we go! Now that everything is set up and ready to be shown to the world of catering, it's time to grab your share of the market. In the beginning, focus on word of mouth promotions, solid referrals, and steady clientele.
It's better to build a strong base than to spend thousands on ads, only to end up with too many orders and unsatisfied customers. Working with people you know will also give you more space for constructive criticism before you are faced with a big and important client. Use this time to tweak any mistakes, mishaps, and to hire and fire as much as you need.
Always do a dry run, and if there is a very big event coming up, make sure you have a plan B for everything – staff, appliances, space and raw materials. A good reputation is everything when it comes to small businesses and you don't want to ruin it over some easily-corrected mistake. Make sure that you have time and enjoy seeing your business get off the ground. Who knows, you might even consider expanding!