The impact of office colour schemes on employees and productivity is often an overlooked aspect of workplace design. Although it might seem like a trivial detail, the choice of colours in an office can have significant effects on the overall atmosphere, employees' moods, and their ability to focus.
Research has shown that the selection of appropriate colours within an office environment can evoke specific emotional responses and influence productivity levels. For instance, cool colours such as blue and green are known to have a calming effect, while warm colours such as orange or red stimulate energy and creativity. Ultimately, finding the right balance between these tones can make a tangible difference in employees' well-being and work output. 
Impact of Colours on Mood and Productivity
Link Between Colours and Emotions
It is important to understand the connection between colours and emotions when designing an office environment. Colour psychology has a significant impact on employees' moods and overall well-being. Different colours can evoke various feelings, such as calmness, stimulation, or creativity, depending on their hue, saturation, and brightness.
For instance, blues and greens are often associated with calmness and tranquillity, making them ideal for areas where employees need to focus or relax. On the other hand, reds and oranges promote stimulation and excitement, suitable for meeting rooms or collaborative spaces. Even kitchen colour schemes – in case your office has a kitchen – can play a role in making break times more enjoyable and less stressful for employees.
Colours and Their Effects on Productivity
When selecting office colour schemes, it is crucial to consider their potential impact on employee productivity. Here are some popular colours and their general effects on mood and productivity:
Blue

: Known for its calming effect, blue can help reduce stress levels and improve concentration, leading to increased employee productivity. A blue-themed office environment may be ideal for tasks requiring focus and attention.

Green

: As a symbol of nature, green promotes a sense of balance and harmony. Employees may feel a boost in their mood and creativity in a green office environment, making it perfect for collaborative spaces and encouraging teamwork.

Yellow

: The colour of optimism and energy, yellow can invigorate an office space by boosting employee output. It is especially effective in creative spaces where innovative thinking and problem-solving are needed.

Red

: Red is a stimulating colour that can increase heart rate and adrenaline. While it may not be ideal for every office space, using red as an accent colour in meeting rooms or collaborative areas can boost excitement and motivation.
Influence of Colours on Office Design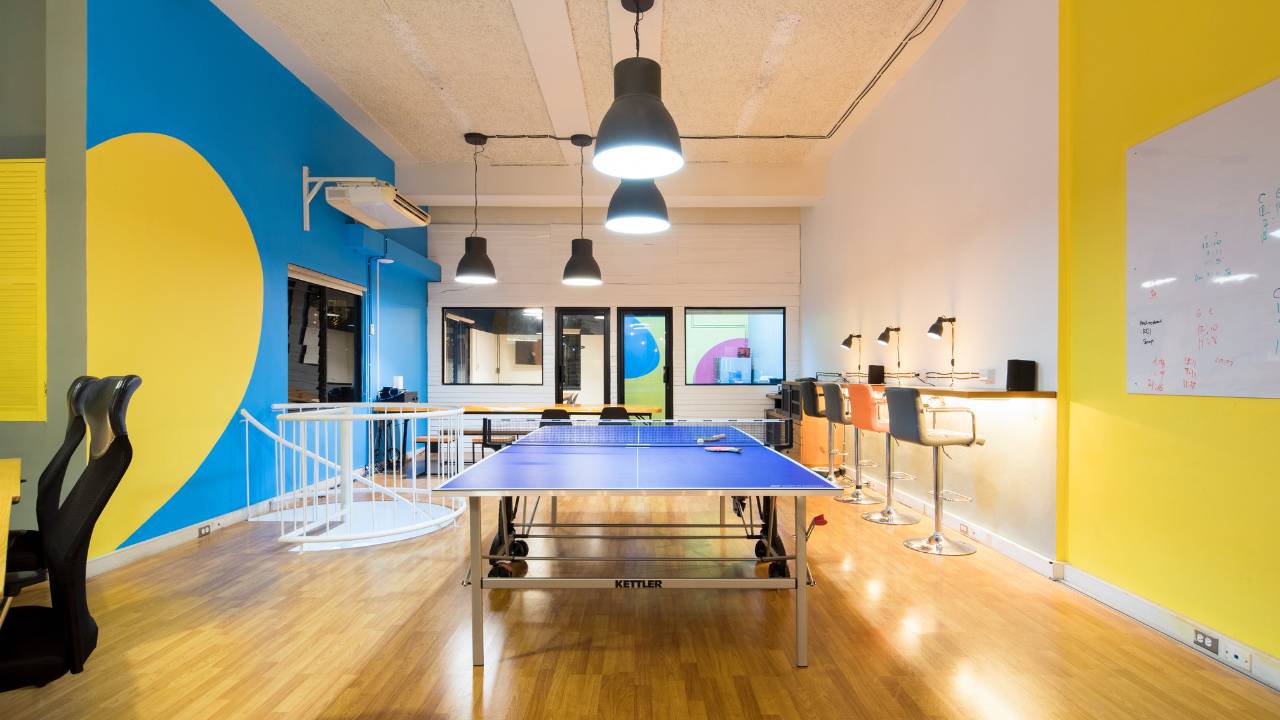 Importance of Colours in Designing Workspace
Colour schemes play a significant role in office design, as they can directly impact employee morale, productivity, and the overall ambience of the workspace. A well-balanced use of colours can create an inviting and comfortable work environment for employees, which can lead to improved performance and reduced stress levels.
One essential factor to consider is the psychological effect of colours. For instance, cooler shades such as blues and greens can instil feelings of calmness and serenity, whereas warmer tones like reds and oranges can stimulate creativity and energy. It is crucial to strike a balance between these colours based on the desired atmosphere for the workspace.
In addition, integrating a company's branding and identity through the use of colours can enhance the overall aesthetic and create a sense of cohesion throughout the office. This can contribute to employees feeling more connected to the company culture and vision.
Role of Furniture and Lighting in Office Design
Furniture and lighting are essential components of office design that can significantly impact employee well-being and overall workplace experience. When selecting office furniture, ergonomics should be a top priority to ensure employees experience comfort and maintain good posture during long hours of work. This can help prevent health issues related to prolonged sitting, such as back pain and eye strain.
Furthermore, choosing office furniture with adaptable configurations can promote collaboration and flexibility within the workspace. This can facilitate a more dynamic work environment, fostering communication and increasing creativity amongst employees.
Lighting is another critical factor in office design, as inadequate lighting can lead to eye strain, reduced productivity, and a gloomy atmosphere. Incorporating natural light into the workspace can create a more lively environment and can even have mood-boosting effects on employees. Additionally, adjustable lighting options can provide employees with the ability to customise their lighting conditions to suit varying tasks, optimising concentration and efficiency.
Influence on Physical and Emotional Health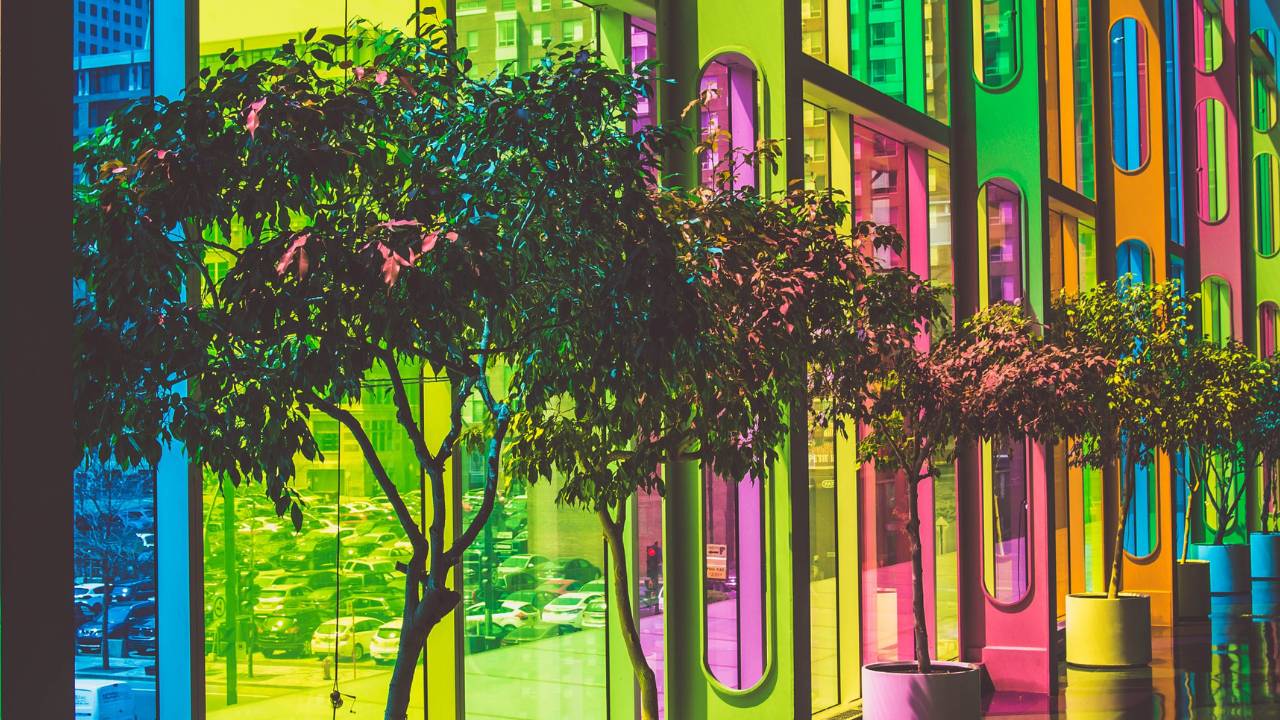 Effects of Colour on Physical Health
Research has shown that different colours can have an impact on our health. Colours like blue and green have a calming effect and can lead to increased relaxation and enhanced overall well-being. These colours are often associated with nature, such as plants and water, which can help to reduce anxiety and promote a sense of tranquillity.
On the other hand, warmer colours like red and yellow can influence blood flow. Red, which is associated with passion, can increase blood pressure and heart rate, thereby potentially leading to feelings of increased energy and excitement. Conversely, exposure to yellow may boost the release of serotonin, a hormone that helps regulate mood and can contribute to feelings of happiness and optimism.
Implication of Colour on Emotional Health
Beyond their physical effects, colours can also play a significant role in determining emotional health. Studies suggest that certain colours can either improve or exacerbate feelings of sadness, anxiety, and depression. Blues and greens are commonly used in office environments to promote a sense of calmness and focus, as they tend to have a soothing effect on the mind. Additionally, incorporating elements of nature, like plants, can further enhance the positive impact of these colours.
In contrast, excessive use of darker colours may contribute to feelings of sadness or depression, as they can lead to a reduction in the amount of natural light in a room. This can be especially detrimental during the winter months, as lack of sunlight can exacerbate Seasonal Affective Disorder (SAD). To prevent this, it's important to strike a balance between the use of darker and lighter colours in an office space.
Implementing Effective Colour Schemes
Choosing the Right Colour Scheme
When deciding on an office colour scheme, one should consider the mood and energy one wants to provoke. Brighter colours, such as yellow and orange, may spark optimism, while calming hues, like blue and green, can foster a sense of tranquillity. The chosen colour scheme must align with the company's brand and values, and designers should also take into consideration the type of work conducted in the space. Collaboration may require more vibrant colours, whereas analytical tasks can benefit from soothing shades.
To simplify the selection process, it's essential to:
Consult with designers and employees for input and preferences

Keep in mind the desired atmosphere and energy

Reflect the company's branding and identity through colour choices
Improving Workplace with Colours
Business owners who care about the well-being of their employees must take an office's design, including its colour scheme, into consideration – it's something that can significantly impact the productivity and the overall happiness of workers. When refining the office design, consider the following applications of colour:
Accent colours:

Incorporate a complementary accent colour in strategic locations, such as meeting rooms or break areas, to inject additional energy and visual interest.

Furniture and art:

Enhance the office space by adding colourful furniture and art that reflect the chosen colour scheme. This will generate an inviting and cohesive atmosphere while promoting the desired energy.

Functional areas:

Divide the office into functional zones using colour. For example, creative spaces may benefit from vibrant hues, while concentration areas might require calming colours.
Role of Colour in Branding and Client Interactions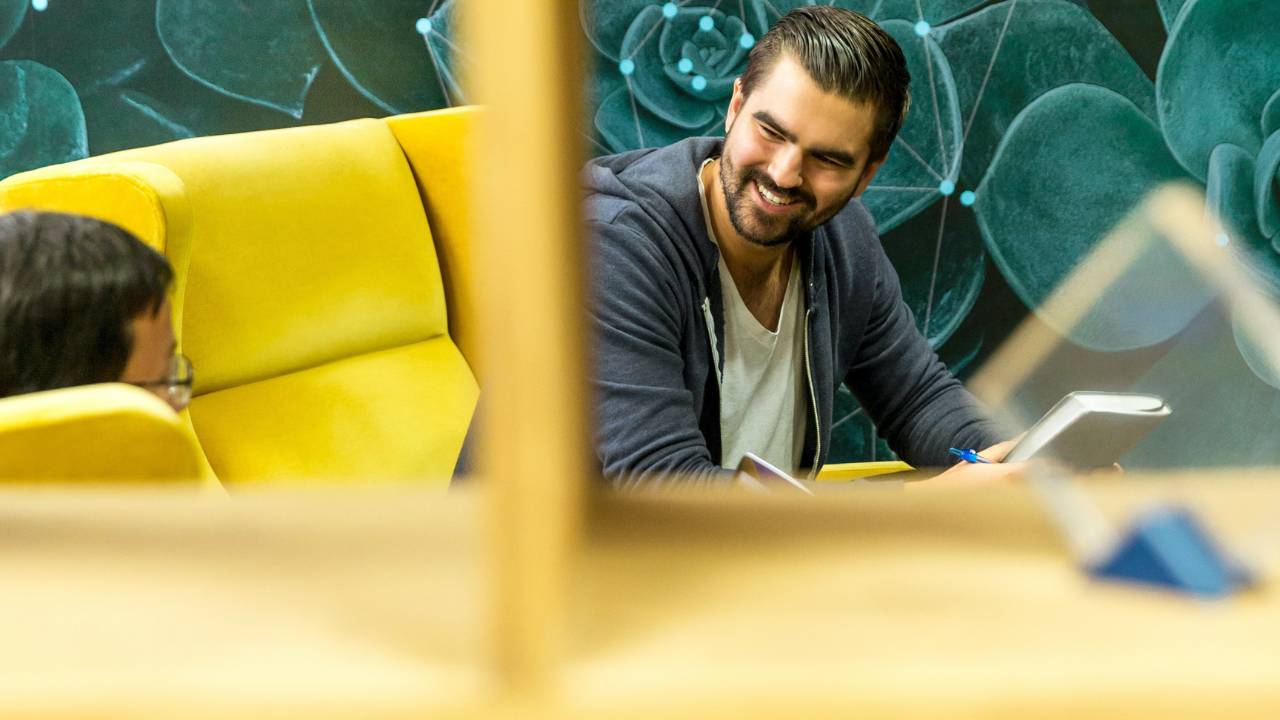 Effects on Clients
Office colour schemes play a vital role in creating a pleasant environment for clients and employees. When it comes to conference rooms, choosing the appropriate colours can significantly impact clients' perceptions of the company and potentially influence their decision-making process. For example, lighter hues, such as blues and greens, can evoke feelings of calmness and professionalism, while warmer colours, like reds and oranges, might spark creativity and energy. It's essential to consider the desired atmosphere for various rooms and choose colours accordingly to cater to clients' needs.
In addition to creating a comfortable atmosphere for clients, the office colour scheme should also accommodate visitors, conveying a sense of company culture while maintaining a professional appearance. Colour choices can affect the perception of customers, shaping their views about the company and its values. For instance, using bold and vibrant colours might convey a sense of innovation, whereas more traditional hues may indicate stability and reliability.
Influence on Branding
Branding is a critical aspect of a company's identity, and office colour schemes can reinforce that image in the minds of employees, clients, and visitors. Incorporating brand colours into the office design can help strengthen brand recognition, especially in customer-facing areas. This visual reinforcement, along with the tone that the colour establishes, makes clients more likely to develop a favourable impression and trust in the company.
However, when incorporating branding elements into the office colour scheme, balance is key. Overusing the brand colours might be perceived as overbearing, so consider using these colours in accent pieces, artwork, or furniture. This way, the company culture and identity will be subtly reinforced without overwhelming visitors and clients.
Conclusion
Office colour schemes wield a profound influence on your own and your employees' health, which is something every business needs to take into consideration – after all, good health is good business. Studies affirm their role in reducing stress, enhancing creativity, and fortifying team communication.
A strategic colour palette aligned with company values not only reinforces brand identity but also contributes to a positive work environment. Careful consideration of factors like natural light and workspace dimensions is pivotal in crafting an effective colour scheme.