This guide will help you choose the best van for your business if you're thinking about purchasing one.
One of the most important choices a startup can make is whether or not to purchase a new van. This vehicle is one of the most important tools you have in your business. Your business needs a vehicle that will provide a good return on investment.
This guide will assist you in selecting a suitable van. We'll help you find a van that works within your price range, too. A well-chosen van can quickly become a valuable asset to your company if the right decision is made.
Can I Afford It?
Your budget is likely to be the most important factor in any vehicle purchase, whether it's your first van, a replacement or an addition to your fleet. Determine the maximum amount you can spend on a new van.
Consider the monthly payment, insurance premiums, and gas. A larger van, for instance, will consume more gas and may be more expensive to insure. While the price of a small van may be more attractive, keep in mind that it can only carry a light load and is therefore limited in its utility.
If you can't afford a particular vehicle, there are plenty of alternatives. New is not necessary. You can find thousands of used vans that are in excellent condition and ready to provide you with reliable service for many years to come.
To cover the cost, you could either look into vehicle financing options or apply for a business loan. Monthly payments are often available through financing packages offered by many auto dealerships.
Considerations in Buying a Van
Why do you need a van?

Who or what will be loaded into the van?

Is there a chance that the van will be filled with people?

Is the van going to be used for short trips around town, or for cross-country road trips?
Van Use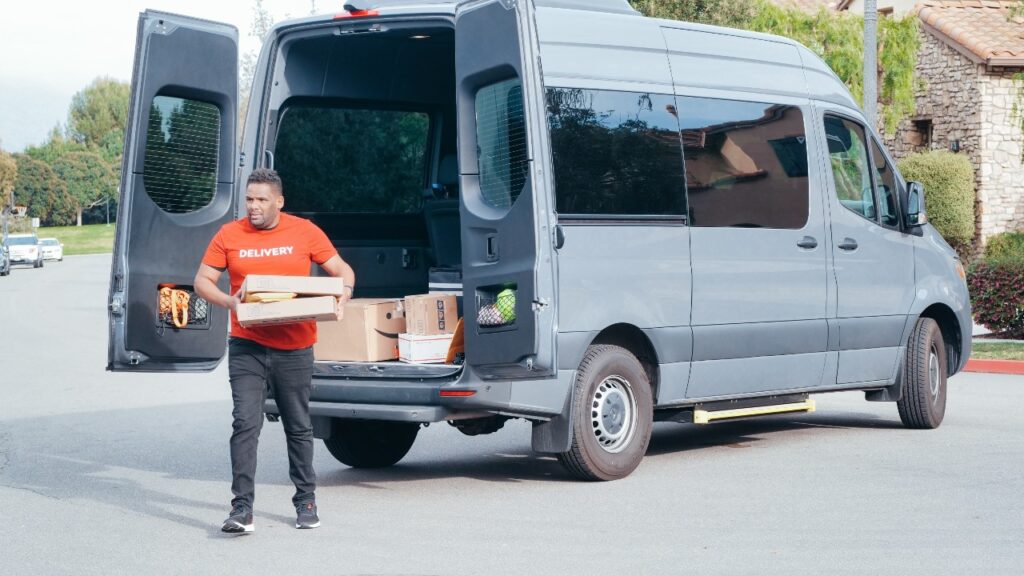 Commercial enterprises of all stripes necessitate vans. The typical uses for a van are in the construction, delivery industries, and catering businesses, but vans also have many other commercial uses. Minibuses can be useful for transporting students or residents of care facilities, while caged vehicles can be used by dog walkers and groomers, and vans can be used by bands to transport their instruments to performances.
Distance and Terrain
You need to give some thought to the kind of terrain that your new van will be traversing. Van comfort becomes an issue if you or your drivers and passengers plan to travel far in it.
You might want to spring for the van that comes with plush leather seats, climate control, a stereo, and other luxuries. The passenger van's safety features must conform to legal requirements. Your van needs to be able to handle rough terrain if you plan to drive it to various construction and farming sites.
Van Loads
The load capacity of your prospective new van should be the second most important factor after cost.
When operating or driving a fully loaded van, it is important to keep in mind a number of metrics.
"Unladen weight" refers to the total mass of the vehicle without any passengers or cargo.

Payload refers to the total weight of cargo, minus the weight of people and fuel.

In this context, "gross vehicle weight" refers to the total mass of the van and all of its contents.
Know the van's weight and carrying capacity before you buy it.
Government punishments for overloading a vehicle can range from fines to vehicle seizure. An overloaded van poses hazards on the road due to the increased risk of skidding, overturning, and mechanical failure.
Insuring Your Work Van
It is mandatory to obtain auto insurance when purchasing or leasing a vehicle. Insuring a commercial vehicle can be more expensive than insuring a car or SUV due to the increased risk associated with commercial vehicles.
One way to make sure the insurance costs won't break the bank when shopping for a new company van is to consult a van insurance broker. You should know that the premium is likely to increase in proportion to the size of your vehicle. The insurance premium for a van is generally proportional to its purchase price.
Making Modifications to the Van So It Fits Your Needs
A van may need to be customized before it can be put to use for your company. Plan for the price of any adjustments. Rather than searching for and purchasing a specially modified vehicle, it may be cheaper and easier to purchase a simple, stripped-out van and perform the changes yourself.
Ford's Transit is widely recognized as one of the most successful commercial vans in history. This adaptable van is ideal for transporting light to medium loads, and it features rear sliding doors for effortless loading and unloading, as well as optional side doors, seating, windows, cages, and shelves. The Mercedes Sprinter is another van in a similar price range that lends itself well to personalization.
Van Types
There are many varieties of commercial work vehicles besides the Transit van that was just mentioned. Small vans are slightly larger than a regular SUV and have enough cargo space to transport a few boxes or tools to the job site. Moving furniture, transporting goods, and transporting larger tools and equipment all call for larger vans.
Considering your options for loading the van is important if you intend to transport bulky items. The ability to unload cargo at the curbside from city vans that must navigate narrow streets is an advantage. Heavy items that can only be rolled or pushed, rather than lifted, can be transported in vans equipped with tail lifts and ramps.
Delivery of landscaping tools, furniture, and scrap metal are just some of the many uses for the flatbed and tipper trucks. Pickup trucks, which typically feature a flatbed in the back, are a good option for transporting goods for small businesses.